Ocean Drive Area Vacation Rental Homes and Condos
---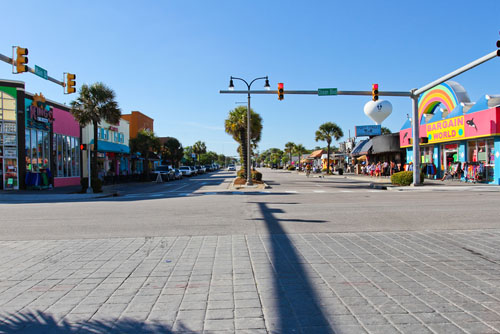 North Myrtle Beach, SC is the birthplace of shag dancing, the Palmetto's state's official dance. And Ocean Drive - or "OD" as locals and those "in the know" call it - is a shagger's paradise. Ocean Drive is most notable for its role in unleashing one of America's great musical genres, beach music, but don't confuse beach music with the Beach Boys or Dick Dale-that's surf music. Beach music, simply put, is the inimitable music to which one dances the shag. Instead, mull over The Drifters, The Platters, and The Swingin' Medallions. (Lest you are confused, the British slang meaning of "shagging" has no place here!)
To experience the OD, go to the intersection of Ocean Boulevard and Main Street and soak up the state of mind. Wherever you are, it's likely you'll hear beach music wafting through the salt-tinged breezes; here, beach music will never go out of style. Several beach clubs feature wooden dance floors and lots of live music. Here, en masse, people do the dance Lewis Grizzard once described as "the jitterbug on Valium." The dance is an elegant cross between the jitterbug and swing dancing and showcases the ultimate in smooth moves. The result is quite enjoyable to watch. In fact, you might be inspired to buy a pair of Bass Weejuns and become a shagger yourself. Locals know but won't tell you until it's too late: shagging is a highly contagious ailment.
Ocean Drive Beach is home to two shag dance festivals-one in April and another in September. These week-long festivals are a reunion of sorts for shag dancers of all ages. Main Street, with its shopping, dining and beach clubs, turns into a party when thousands of dancers reunite in a carnival-like atmosphere that promises fun for one and all. Contests and lessons abound for the uninitiated. Take advantage of the opportunity and head home with a bevy of new moves. Perhaps you and yours will become one of the masses who return every year for a North Myrtle Beach vacation!
If shagging's not your style, don't fret. Ocean Drive is still a charming, stress-free area that offers plenty of fun simply shopping, strolling and savoring the beach vibe. Main Street is the heartbeat of the Ocean Drive section of town, and it's a great place to shop at unique boutiques, eat at great, locally-owned restaurants and splurge on a double scoop of ice cream or some other similar indulgence. Ocean Drive is also where you will find the post office, library and the City's municipal offices. And, of course, there's the wide white shoreline for which North Myrtle Beach is renowned.
Vacation rentals, condominiums and beach houses within walking distance of Main Street are varied and nearly without number. Amenities are generally extraordinary. Many of the homes are on stilts in classic beach style. And there are an impressive number of large, modern resorts, such as the oceanfront Avista Resort and Mar Vista Grande. There's even a charming lakefront community with tennis courts and freshwater ponds.
Elliott Beach Rentals can guide your navigation through myriad North Myrtle Beach. Call now and speak with one of our highly trained vacation specialists!