About Elliott Beach Rentals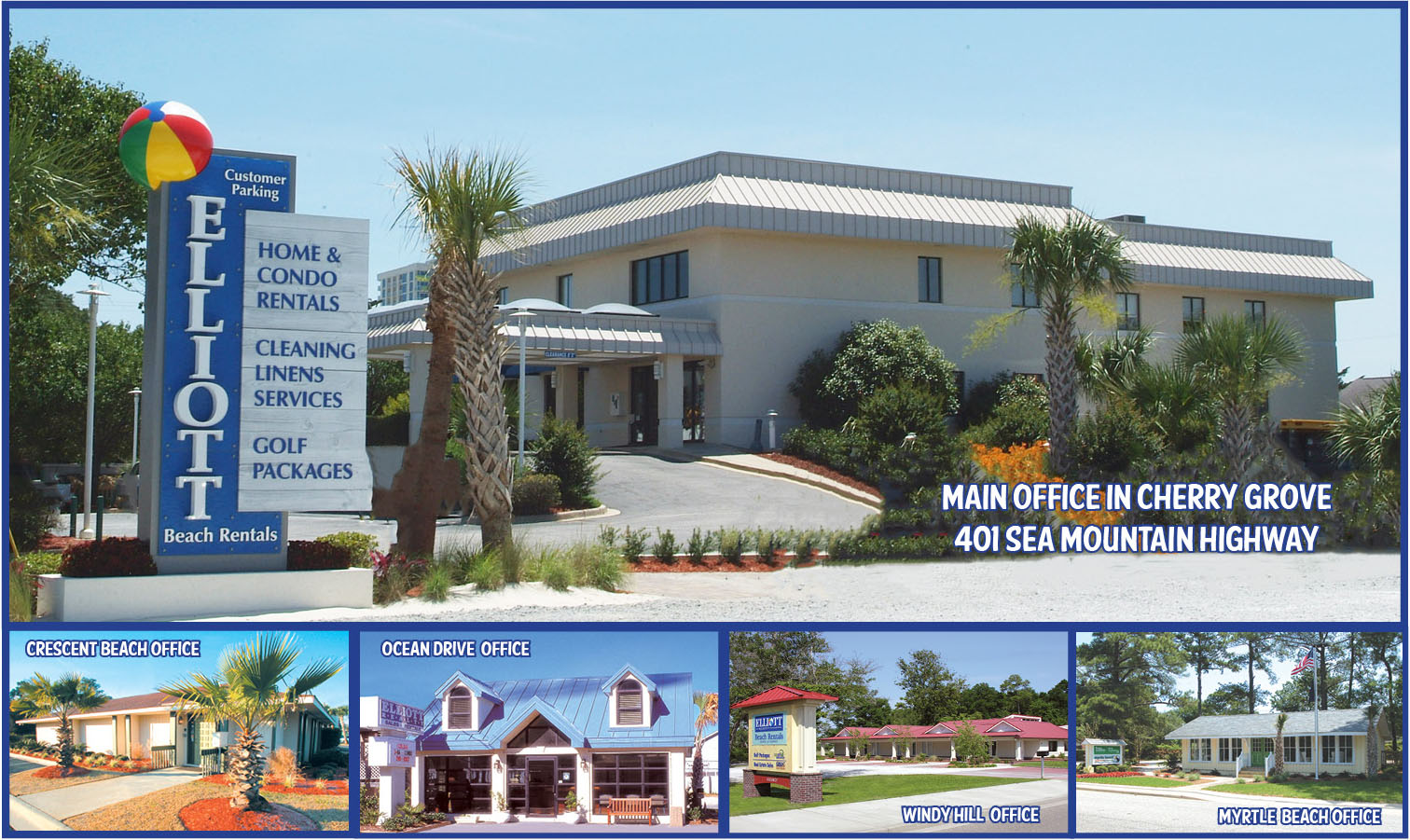 Your vacation planning will be a breeze when you consult with the experts at Elliott Beach Rentals. Since 1959, this family-owned company has been working with families from across the nation to plan their Myrtle Beach vacation. Looking for an exceptional Myrtle Beach golf package? We can help you with that too – our sister company Myrtle Beach Golf Authority specializes in Myrtle Beach area golf vacations for groups of all sizes, ages and skill. The vacation specialists can help you plan more than just a family summer beach trip. We can help you plan the best spring break, fall getaway even a Christmas shopping weekend can be done with just a few minutes of your time with one of our highly trained, professional vacation specialists.
Elliott Realty was started in 1959 by the late Senator Dick Elliott. Senator Elliott believed in the motto that still rings true today: Service you expect, People you trust. From renting a vacation property for a vacation to buying a family home, Senator Elliott believed that everyone deserved a great experience and service from Elliott Realty. Even to this day, you still find that the second generation of the Elliott family prides themselves and their employees in the same beliefs that the company was founded on over 50 years ago.
Elliott Realty has four different divisions: Elliott Beach Rentals, Myrtle Beach Vacation Rentals, Better Homes and Gardens Real Estate Elliott Coastal Living and Myrtle Beach Golf Authority. For the best selection of North Myrtle Beach vacation rentals, choose from hundreds of beach homes and condos with Elliott Beach Rentals. Likewise, Myrtle Beach Vacation Rentals specializes in beach homes and condos in Myrtle Beach. Our real estate sales division can help you buy or sell your land, home, condo, or commercial property – Elliott Coastal Living is located just down the street from our main office in Cherry Grove and has real estate agents licensed in both North and South Carolina waiting to help make all your dreams come true. Myrtle Beach has over 100 golf courses to play, so it's no surprise that golf packages are a popular item for visitors. For over a decade our golf specialists at Myrtle Beach Golf Authority have been planning trips to accommodate golf groups of all sizes. We also offer just tee times if you've already found your perfect vacation rental.
Interested in joining the Elliott Realty team? See website www.elliottjobs.com for employment opportunities!
(Staff picture below is from 2019. Due to COVID-19 restrictions, no staff photo for 2020 was taken.)