About the Myrtle Beach Area
Renowned for its own white sandy beaches under blue skies, and easy access to the premier golf, restaurants, fun and entertainment, the North Myrtle Beach area of South Carolina's Grand Strand is a vacation mecca for families. With countless number of vacation rentals - oceanfront condos and beach houses North Myrtle Beach, SC is visited by millions of people each year. North Myrtle Beach, SC has banned tents on the beach from May 15 - September 15. For more information about the North Myrtle Beach tent ban, visit the city's website at: http://www.nmb.us
Remember, there is any easier way to get around town! Leave your car keys on the counter and choose a different way to visit the local attractions!
Park your vehicle and avoid traffic congestion and parking hassles! Easy to ride, go anywhere, YRyde pedal-assist electric bicycles can be delivered to your Vacation Rental of choice! Weekly and monthly rental reservations are available by clicking: Yrydebykes of Myrtle Beach
Beach it in style with a golf cart from Salty Frye's. Reserve your golf cart now at Salty Frye's Golf Carts! Special rates & discounts available for Elliott Beach Rentals guests.
Should the need arise for medical attention while you are here, you have a couple options:
- MEDcare, North Myrtle Beach Visit them online: https://www.medcareurgentcare.com/medcare-urgent-care-north-myrtle-beach/
- MobileUrgent.Care Stay in your property and let the doctor come to you! Book your at home appointment online or call 843-290-8097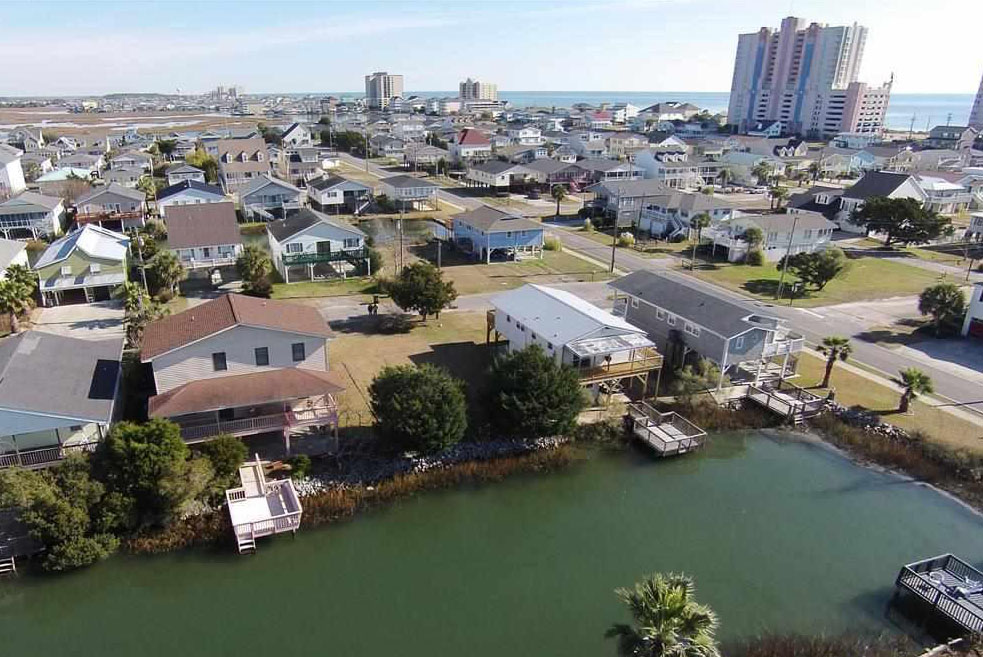 Cherry Grove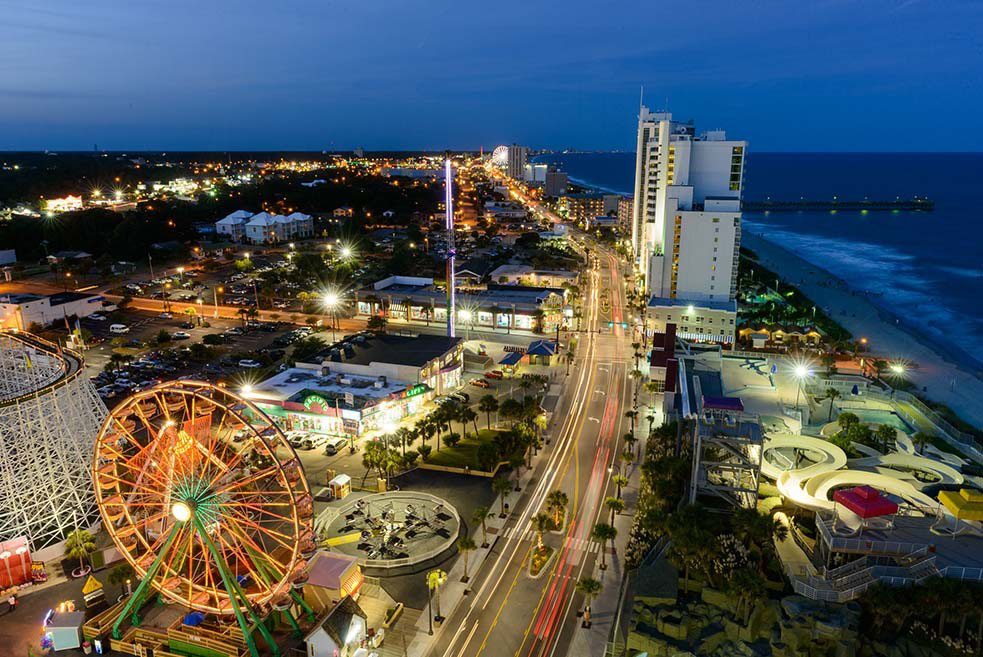 Myrtle Beach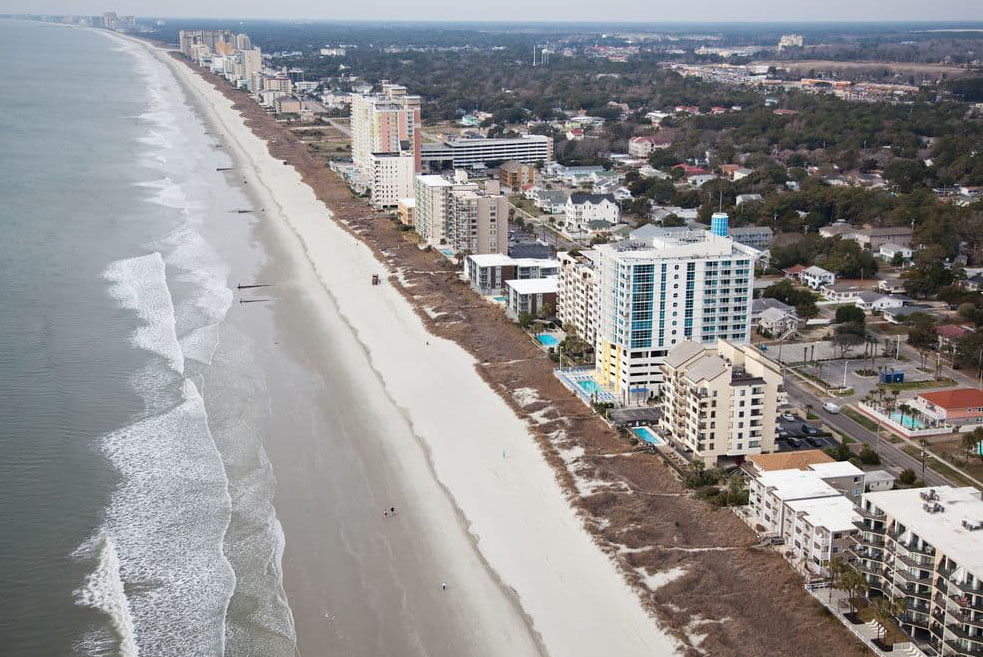 Cresent Beach
South Carolina's Grand Strand

From Little River on the north end to Georgetown on the south, there are more than 60 miles of beautiful beaches. Known as the Grand Strand, this gentle curve of South Carolina coastline hosts millions of visitors annually. They come for the beaches, to play on the golf courses, water parks and theme parks, to eat amazing seafood and to enjoy the wide variety of nightlife entertainment. Families, couples and golfers comfortably reside in North Myrtle Beach vacation rentals that range from luxurious to totally affordable. From top to bottom, the primary areas of the South Carolina Grand Strand are:
Little River
A charming, historic fishing village, Little River features waterfront dining and attractions along the Intracoastal Waterway. Seafood restaurants, kayak rentals, marinas and golf courses are all part of the Little River landscape. Charter and commercial fishing boats dock in Little River, as well as a casino gambling boat. You can hop onto a boat in Little River and be through the inlet and out into the Atlantic Ocean in no time at all. Every May, Little River welcomes thousands of visitors to their award-winning Blue Crab Festival, a popular event held on the historic waterfront. As a guest of a popular North Myrtle Beach resort or a renter of an exquisite beach house, you will be only minutes away from Little River and its waterfront views and eateries.
Cherry Grove Beach
At the north end of North Myrtle Beach, Cherry Grove Beach lies between the Atlantic Ocean and the serene salt marsh. What a beautiful and unique setting on the Grand Strand! Cherry Grove is easily recognized by the saltwater channels that are like backyard alleys throughout the community. The beach is quiet and yet it is full of vacation attractions, such as boating, a very popular fishing pier, shopping and golf courses. Enjoy a delicious meal at a Cherry Grove restaurant and watch all the activity surrounding the Cherry Grove Fishing Pier. Elliott Beach Rentals has a wonderful selection of vacation rentals in Cherry Grove that are either on the oceanfront or have a saltwater channel in the backyard. Condos near the Cherry Grove Fishing Pier are enticing for fishing enthusiasts while a beach house with a backyard dock and water access lures kayakers galore.
Tilghman Beach
Elliott Beach Rentals offers some terrific oceanfront beach houses in Tilghman Beach, an area that is just south of Cherry Grove in North Myrtle Beach, South Carolina. The beach is beautiful and the upscale beach houses are so enticing. Oceanfront condos located in a delightful resort with an array of amenities are an option in Tilghman Beach as are classic beach houses on stilts and oceanfront houses with numerous bedrooms for large groups. Spend your North Myrtle Beach vacation in Tilghman Beach and enjoy oceanfront sunrises before your family puts their bare toes in the white sand. The popular Surf Club Golf Course is located in Tilghman Beach as well.
Ocean Drive Beach
Can you hear the beach music playing in the background? When you are in the Ocean Drive section of North Myrtle Beach, SC it is generally easy to hear. Ocean Drive is the birthplace of Carolina shag dancing to beach music. Several beach clubs feature wooden dance floors and live music and they fill up with shaggers on the weekends. Ocean Drive Beach is home to two shag dance festivals—one in April and another in September. These week-long festivals are a reunion of sorts for shag dancers of all ages. Main Street, with its shopping, dining and beach clubs, turns into a party when thousands of dancers reunite on Ocean Drive Beach. So it is always a good time to make your vacation reservations in the Ocean Drive section of town where your oceanfront condo, fabulous resort or beach house vacation rentals are just a few blocks away from the hustle and bustle of the shag dancing world.
Crescent Beach
Centrally located in the North Myrtle Beach, South Carolina area, Crescent Beach features beach houses on the second and third rows and high-rise condominiums on the oceanfront. Enjoy the views from an oceanfront condo or opt for the space and privacy of a beach house vacation rental in these North Myrtle Beach neighborhoods. This is where the very popular Bay Watch Resort is located, featuring three high-rise towers on the oceanfront and three pool decks. Crescent Beach is a nice destination for families who love to play on the beach!
Myrtle Beach Marathon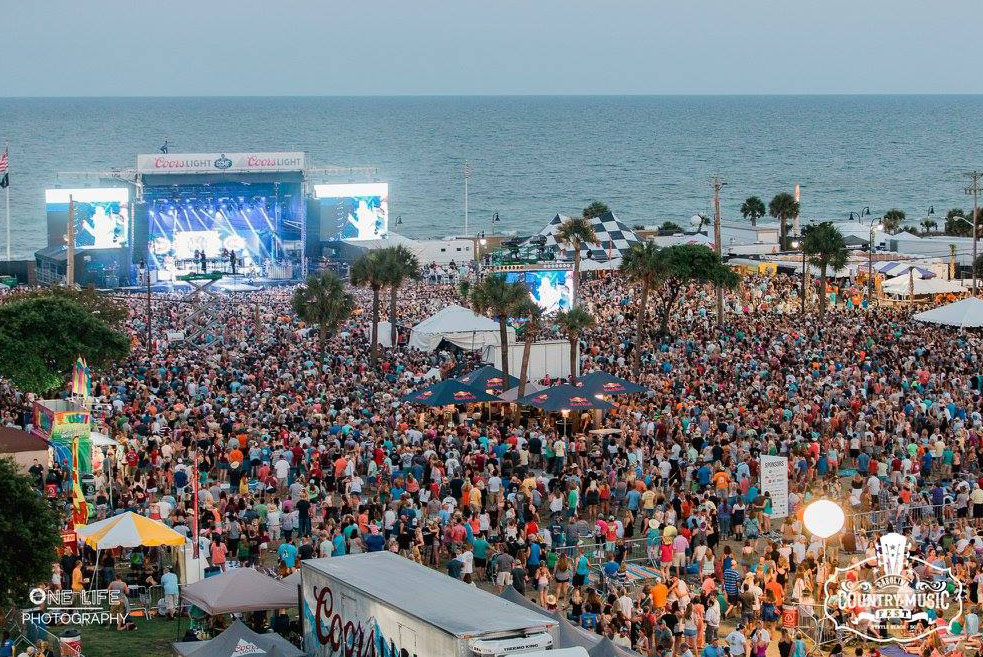 Country Music Festival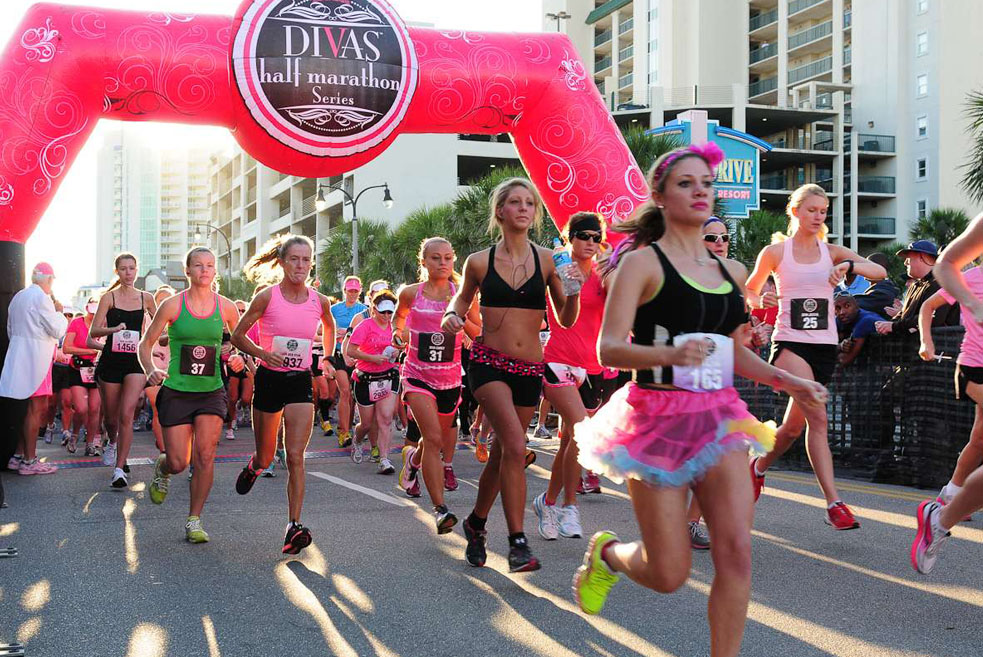 DIVAS Half Marathon
Windy Hill
There is plenty of shopping and dining in Windy Hill because this is the area where you will find Barefoot Landing, a sprawling destination where shops and restaurants surround Alabama Theatre and House of Blues. Windy Hill is situated on the Intracoastal Waterway and is accessible by both car and boat. A large oceanfront resort community is situated in Windy Hill and boasts oceanfront condos and vacation rentals that are tucked away in the trees. The proximity of Windy Hill beach houses, resorts and other rentals to live entertainment theatre, spectacular concerts, award-winning dining options and intriguing shopping, not to mention a popular wine-tasting showroom and bar, is ideal.
Myrtle Beach
Just south of the North Myrtle Beach area, and a very easy drive, the City of Myrtle Beach is where golfers, families, couples and friends have come to play for generations. There are nearly 100 golf courses in the Myrtle Beach area, numerous live entertainment theatres and hundreds of restaurants. The area is renowned for its amusements and attractions and there is plenty of shopping to be tackled in Myrtle Beach, South Carolina—from Broadway at the Beach to the Market Common. Go from water slides to roller coaster rides in Myrtle Beach or hike the state park trails and kayak the creeks and rivers.
Whether your family or golf foursome or group of girlfriends or reunion hosts choose to stay in the Little River, Cherry Grove, Tilghman Beach, Ocean Drive, Crescent Beach or Windy Hill section of North Myrtle Beach or down in Myrtle Beach proper, we are sure you will be happy with your vacation rental choice. And there are so many resorts, beach houses, oceanfront condos and oceanfront houses from which to choose.
Myrtle Beach Area Informational Links