Myrtle Beach Restaurants
North Myrtle Beach, Myrtle Beach and the surrounding areas have become very popular in the culinary world, offering delicious menus from more than 1,700 restaurants. One way to get to know this beautiful city is to try the fresh savory seafood caught directly from the sea. This area is known for delicious seafood, with many choice items such as grouper, clams, crab, oysters, and so much more. No need to worry if you are craving other foods as this coastal area of South Carolina is filled with tantalizing aromas and flavors of foods from around the world. You will find dine-in restaurants and on-the-go style eateries.
When staying at a North Myrtle Beach resort vacation rental condo you will be pleased to find that many of the resorts offer a very nice restaurant or coffee shop on the premises. This is always a nice feature to consider when making your final decisions about your vacation package with Elliott Beach Rentals. When venturing out of your North Myrtle Beach area vacation rental condo you will also find fine delicious dining at many other area restaurants as listed below.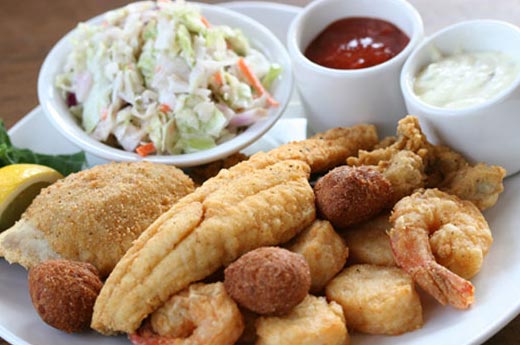 Delicious seafood - an area specialty!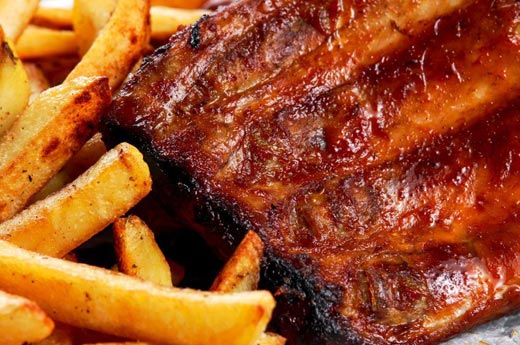 Did someone say ribs? Big flavors are part of the culture.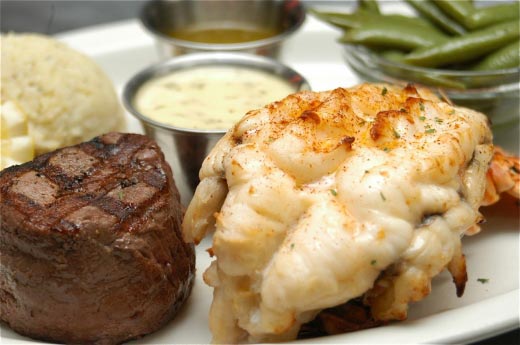 Fine dining for that special night out.
---
Little River
Bistro 90
Come to Bistro 90 where you will find a beautiful, family-filled atmosphere and a wonderful dining experience, only a short distance west of the North Myrtle Beach area beachfront. On this enticing menu, you will find a mixture of Italian cuisine, American homemade foods, traditional foods and so much more. Ordering steak may be a perfect choice or maybe even seafood, pasta or savory chicken. This restaurant features a unique brick oven where a mouthwatering New York style pizza and homemade bread will be baked to perfection just for you! We promise you will love the excellent prices at this popular restaurant and most likely will choose Bistro 90 as a favorite restaurant during your vacation stay in South Carolina. The atmosphere is relaxing and comfortable. (7209 Hwy 90, Longs; 843-390-5151)
www.bistro90.com
Brentwood Restaurant
Brentwood Restaurant is a great option for dining while on your vacation getaway. This two-story modern building is sure to please anyone with delicious menu items being served such as savory steaks, buttery lobster, and even delicious soft shell crabs. When you have finished your last bite head to the upstairs lounge at Brentwood Restaurant where a relaxing atmosphere and delicious desserts await you. Crème Brule au Grand-Marnier, Belgium chocolate mousse, and Assiette de Fromage for two are just some of the delectable offerings. The desserts are unforgettable at Brentwood Restaurant!
(4269 Luck Ave, Little River; 843-249-2601)
www.thebrentwoodrestaurant.com
Capt. Juel's Hurricane Restaurant
Capt. Juel's Hurricane Restaurant is located on the historic waterfront in Little River, South Carolina. This fine restaurant was established in 1947 and is one of the most popular restaurants in the area today. At this choice restaurant, you can eat inside or even relax outside while being served everything from juicy burgers to fresh seafood and Italian pasta. If you are dreaming of a steak dinner or even a homemade chicken dinner no need to worry as Capt. Juel's Hurricane Restaurant has everything you can imagine and even live entertainment. Come for lunch and dinner Monday through Saturday.
(4499 Mineola Avenue, Little River waterfront; 843-249-2211)
www.captjuelshurricane.com

Crab Catchers
If you're looking for fresh seafood, look no further than Crab Catchers in Little River. This waterfront restaurant has been specializing in fresh local seafood for over 20 years. Crab Catchers provides fresh and enticing seafood that is made to order every time. Even though the majority of their dishes are seafood, they still offer sandwiches, burgers, and steak entrees. After a day at the beach, come take advantage of their laid-back atmosphere and unwind.
(4474 Water Front Avenue: 843-280-2025)
https://www.crabcatchers.com/
Chianti South
Set in a romantic backdrop against the pretty waterway and live large oak tress you will find Chianti South to be the most gorgeous place for a perfect dinner date. At this fabulous eatery you will be able to select from many mouthwatering items such as veal parmigiana, sirloin steak, salads, fresh soups prepared daily, the best pasta with homemade sauces and so much more. Chianti South is open for dinner.
(2109 Highway 17 North, Little River; 843-249-7888)
www.chiantisouth.us
The Parson's Table
The Parson's Table is a unique and delightful dining room restaurant that was originally the Little River Methodist Church built way back in 1885. This top-rated restaurant is known for being a multi award-winning restaurant which offers many menu item selections such as fried green tomatoes, savory wild mushrooms, oysters, shrimp, Alaskan salmon, soups and scrumptious desserts. We promise when you have dinner at The Parson's Table you will not be disappointed.
(4305 McCorsley Ave - off Highway 17, Little River; 843-249-3702)
www.parsonstable.com
---
North Myrtle Beach
Duffy Street Seafood Shack
Duffy Street Seafood Shack features a comfortable laid-back kind of atmosphere where you can relax with a cold beer and smoking hot blues. This has been a well-known, family-owned-and-operated business for 20 years. If you love seafood you will love this Lowcountry atmosphere restaurant in charming North Myrtle Beach, South Carolina.
(202 Main Street, North Myrtle Beach, 843-281-9840)
Flynn's Irish Tavern
When coming to the Grand Stand you will fall in love with Flynn's Irish Tavern located on Main Street in the gorgeous Ocean Drive area of North Myrtle Beach. This savory restaurant is located close to many golfing areas and the beautiful satin white beaches of the forever Atlantic Ocean. This is the choice spot on the map to stop for an ice-cold drink and a delicious dinner. You do not want to skip this restaurant while vacationing in South Carolina.
(421 Main Street, North Myrtle Beach; 843-249-6533)
https://flynnsirishtavern.com
Greg Norman's Australian Grille
Greg Norman, the popular golfer, has a beautiful restaurant in the inviting Barefoot Landing area where you will find this Australian eatery situated with Intracoastal Waterway views. Some items on the menu at this upper-class restaurant are rack of lamb, seafood, and tantalizing steaks. This restaurant is known for an award-winning wine list. Greg Norman's Australian Grille Pub is open daily for lunch and dinner.
(4930 Highway 17 South, North Myrtle Beach; 843-361-0000)
www.gregnormansaustraliangrille.com
Martini's Continental Dining and Piano Bar
Come relax at Martini's Continental Dining and Piano Bar where you will find a cozy fireplace, live music and many choices of veal, steak and seafood. Choose from more than 30 specialty martinis or even a wonderful bottle of wine. Open daily for dinner.
(98 Highway 17 South, North Myrtle Beach; 843-249-1134)
www.martininmb.com
Rockefeller's Raw Bar
Looking for a relaxing atmosphere in which you can dine on fresh seafood and oysters on the half shell, then look no further as Rockefeller's Raw Bar is the perfect setting for a wonderful dinner date. This is a top-rated restaurant in North Myrtle Beach, South Carolina.
(3613 Highway 17 South, North Myrtle Beach; 843-361-9677)
www.rockefellersrawbar.com
Sugami Japanese Steakhouse
At Sugami Japanese Steakhouse you will be delighted as you dine in a festive atmosphere where steak, seafood and chicken are char-grilled tableside. You may also choose from crab legs, shrimp, oysters, and clams and you can enjoy dining on the back deck overlooking the scenic Intracoastal Waterway. Did we mention the delicious sushi bar? It happens to be a favorite in the area. Open for dinner.
(4813 North Kings Highway, Restaurant Row, North Myrtle Beach; 843-692-7709)
www.sugamimyrtlebeach.com
---
Myrtle Beach
This local favorite hideaway happens to be very popular in Myrtle Beach where you will find juicy burgers, crab cakes, shrimp, stuffed mushrooms, and cocktails. Come in your bathing suit and bare feet where Beach Bummz Bar & Café welcomes you to relax on the oceanfront while you dine.
(2002 North Ocean Boulevard, Myrtle Beach; 843-916-9111)
Bimini's Oyster Bar and Seafood Cafe
A delightful island atmosphere is the perfect backdrop for this enjoyable restaurant where you will find savory foods such as seafood, sandwiches, oysters, fish and steaks. Oyster shooters, oyster happy hour specials and famous grouper bites are part of the fun at Bimini's. Look at the live music line up when you are in town for your North Myrtle Beach area vacation.
(930 Lake Arrowhead Road, off Restaurant Row, Myrtle Beach; 843-449-5549)
Carolina Roadhouse
When everyone in your family or golf foursome craves something different, then consider the menu at Carolina Roadhouse, a family-friendly restaurant with everything from a signature house salad with hot bacon dressing to filet mignon and scrumptious ribs. This popular restaurant is known for the healthiest and most delicious salads with toppings such as fresh tomatoes, eggs, spinach, and more. The large bar area is great if you just need a refreshing cocktail and a hot appetizer or quick sandwich. You will be able to keep an eye on your dinner as it is being prepared by watching through the wide-open glass window in the cafe. Open daily for lunch and dinner.
(4617 North Kings Highway at 47th Avenue North, Myrtle Beach; 843-497-9911)
www.carolinaroadhouse.com
Damon's Oceanfront
Come dine at Damon's Oceanfront where you will enjoy the exquisite views of the Atlantic Ocean. Perched up high on stilts you will be in awe with the breathtaking views of the magnificent sea. Just wait until you see the delicious seafood menu that is sure to please every guest—ribs, steak, chicken and a nice selection of lighter menu options, too. Open daily.
(2985 South Ocean Boulevard, Myrtle Beach; 843-626-8000)
www.ribsribsribs.com
New York Prime
New York Prime is a favorite to locals and vacationers in the pleasant Myrtle Beach area. This happens to be the only all-prime steakhouse on the Grand Strand! New York Prime has a lovely wine list and a menu with 22-ounce bone-in rib steak, chopped Italian salads, live lobster and triple cut lamb chops. There are many other delicious desserts and drinks to choose from too. Open daily for dinner.
(405 28th Avenue North, Myrtle Beach; 843-448-8081)
www.newyorkprime.com
Original Benjamin's Calabash Seafood
Here you will find a calabash buffet with steaks, pasta, crab legs, fish, and so much more. This all-you-can-eat buffet offers 170 items, including Lowcountry cuisine and sweet desserts that are sure to please you. Open daily.
(9593 North Kings Highway, Restaurant Row, Myrtle Beach; 843-449-0821)
www.originalbenjamins.com
Sea Captain's House Restaurant
Designed in style with the nostalgic look of the original 1930 beachfront cottage look, Sea Captain's House Restaurant welcomes you to come dine on delicious menu items and enjoy breathtaking sunsets views that overlook the Atlantic Ocean. On the menu you will find shrimp, fresh fish, center-cut steaks, sautéed chicken, oysters, crab appetizers and so much more. (3002 North Ocean Boulevard, Myrtle Beach; 843-448-8082)
www.seacaptains.com
Thoroughbreds
Live entertainment on the veranda and a romantic steak dinner is the theme at Thoroughbreds. Awarded a three-diamond rating since 1993 we promise you will be impressed with your meal as you choose from certified beef, veal, duck, venison, and so much more. The desserts are scrumptious too! Open daily for dinner.
(9706 North Kings Highway, Myrtle Beach; 843-497-2636)
www.thoroughbredsrestaurant.com
---
Garden City
Just two miles south of the Garden City Pier and across the street from the Atlantic Ocean you will find the Gulfstream Café, which overlooks Murrells Inlet and offers breathtaking sunset views. Bask in the aroma of shrimp, oyster and crab appetizers then enjoy award-winning entrees that complete the menu including fresh fish, center-cut steaks and perfectly sautéed chicken. Open daily.
(1536 South Waccamaw Drive, Garden City; 843-651-8808)
www.gulfstreamcafe.com
---
Murrells Inlet
This waterfront restaurant is only eight miles south of Myrtle Beach where you will enjoy dreamy views of the gorgeous salt marsh waters of Murrells Inlet. Here at Wahoos Fish House you will find a fascinating menu that includes aged steaks, lobster, duck, buffalo, fresh fish and so many more pleasing items to tease your taste buds. Did we mention the table and counter seating for those who prefer sushi? It is the perfect place for those who love good food.
(3993 Highway 17S, Murrells Inlet; 843-651-5800)
www.wahoosfishhouse.com
Drunken Jack's Restaurant & Lounge
Come experience the legend of Blackbeard and his crew member, Jack. A unique downstairs lounge, upstairs dining area and welcoming outside deck all overlook the scenic salt marsh of Murrells Inlet. The clam chowder is divine and the hushpuppies are famous but the daily specials are what you should really pay attention to as the award-winning chef prepares out-of-this-world menu items. Open daily for lunch and dinner.
(4031 Business Highway 17, Murrells Inlet; 843-651-2044)
www.drunkenjacks.com
---
Experience The Food For Yourself!
Find Your Elliott Beach Rental