Myrtle Beach Watersports and Fishing
Water Sports Draw Adventurers to Myrtle Beach
There are many waterways in the North Myrtle Beach, South Carolina area. In addition to the grand Atlantic Ocean, there is the Intracoastal Waterway, the Waccamaw River, and all of the inlets, bays, marshes, creeks and canals that wind through the area. While taking your beach vacation at one of the many rental condo resorts or rental houses around North Myrtle Beach, you have great options to explore and utilize those waterways.
Fishing is plentiful in the North Myrtle Beach, South Carolina area. It could be as simple as surf fishing from the beach, or from one of the area piers. There are also a great many types of fishing charters available. They can vary in length from a half day to a full day or overnight. There are inshore fishing charters, as well as charters that take you out onto the ocean to angle for the huge fish that swim there. You can even go shrimping or crabbing on some charters.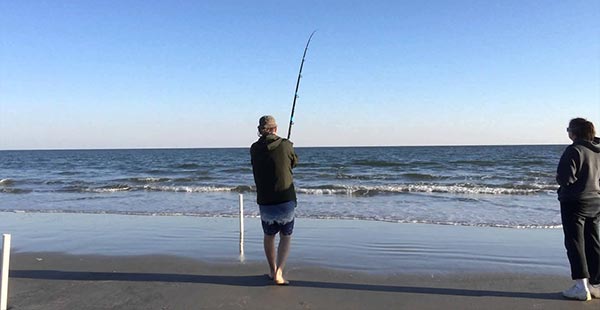 Fishing opportunites are plentiful in North Myrtle Beach.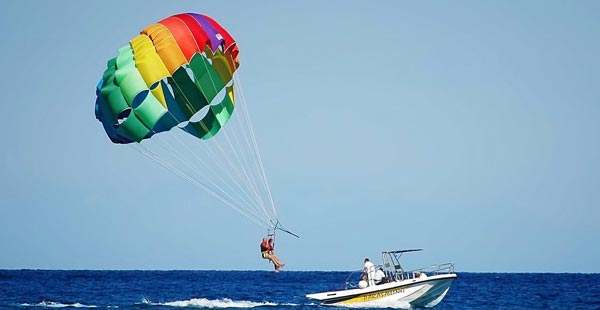 Parasailing for an exciting addition to your vacation!
Many of the companies that offer fishing charters also offer lovely eco tours and visits to some of the barrier islands. Dolphin tours abound in the area. Dolphin tours are also conducted by some charter companies on Jet Skis! Dash over the waves to spot the friendly dolphins, or for no reason at all! You can also explore rentals and tours involving kayaks, paddleboards, and pontoon boats. Just have fun on a banana boat ride or parasailing. Learn to sail, surf, or SCUBA dive while you are on vacation. Enjoy the many fishing and water sport opportunities during your beach vacation!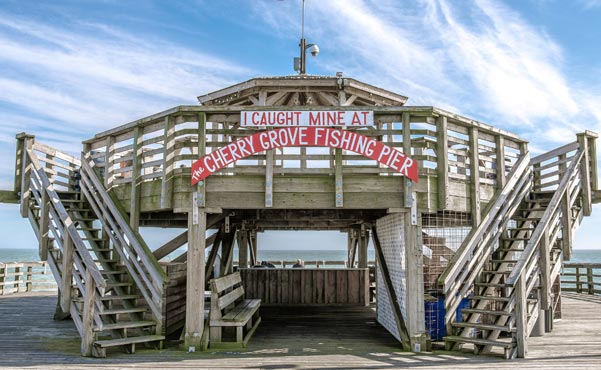 Catch a big one at Cherry Grove Fishing Pier.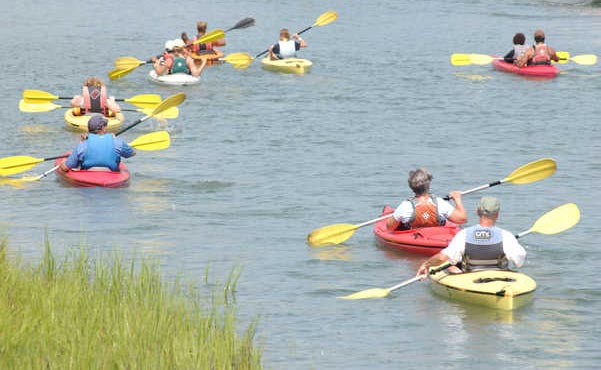 Enjoy a Kayaking tour.
---
Little River
Chilly Water Fishing Charters
Fish the Carolina coast with Captain Bevan of Chilly Water Fishing. Catch black sea bass, flounder, king mackerel, Spanish mackerel, dolphin, wahoo, grouper, vermilion snapper, and many other types of fish. Charters can accommodate groups of 4 for 5, 8, or 10-hour private charters along the Grand Strand. Captain Bevan is dedicated to making your fishing adventure memorable. Call for reservations. (Morgan Ave, Little River; 843-450-1338)
www.chillywaterfishing.com

Capt. Smiley's Inshore Fishing Charters
Captain Smiley Fishing Charters was voted #1 in Little River by Trip Advisor. Captain Smiley is a light tackle specialist, and inshore fishing is their focus. Fish inshore sounds, inlets, tidal creeks, and nearshore wrecks. Captain Smiley is committed to conservation, and hosts a two-hour private eco tour daily. In addition to an Intracoastal Waterway tour, you will experience local bird species, and observe aquatic life in the salt marsh. Bring your camera to capture the beauty of the barrier islands. Call for reservations.
(4474 Waterfront Avenue, Little River; 843-361-7445)
www.captainsmileyfishingcharters.com

North Myrtle Beach Fishing Charters
North Myrtle Beach Fishing Charters offers a wide array of fishing experiences, from a number of locations. For a party of up to six, trips can be backwater, inshore, offshore, Gulf Stream and deep-sea fishing. High quality equipment is provided along with bait and licenses for their customers. Light tackle fishing is their specialty. Try the Family Fun experience and fish just off the beach in Myrtle Beach, South Carolina. Either live bait or trolling lures are used to catch Spanish mackerel, Bluefish, and Sharks.
(Based at the Cricket Cove Marina and Snooky's Restaurant & Tiki Bar, located at 4495 Baker Street in Little River, 843-997-9773)
www.northmyrtlebeachfishingcharter.com

Enchanted Sailing Charters
Set sail on the Enchantress, the largest charted sailboat in the Myrtle Beach area. The cockpit hardtop in this 44-foot beauty provides above the boat seating for great views. Book half- or full-day cruises, sunset romantic cruises, or dinner cruises for up to six guests. Make a special memory as so many others have by choosing Enchanted Sailing Charters for your marriage proposal, anniversary, wedding, or overnight cruise.
(4495 Baker Street, Little River; 843-241-6874)
www.enchantedsailingcharters.com

Little River Fishing Fleet
Little River Fishing Fleet has been the number one fishing charter in Myrtle Beach, South Carolina for over 30 years. Choose from their classic head boat fishing half-day trips, their most popular specialty open boats and most flexible private charters. Click on the website below for a handy schedule of available fishing trips. You will also find great weekly specials on the website, to keep a little more jingle in your pocket during your beach vacation!
(1501 Highway 17 South, North Myrtle Beach; 843-361-3323)
www.littleriverfleet.com

Little River Water Sports
Get away from the stress of everyday life and submerge yourself in a true local gem. Little River Watersports is a locally owned business that features jet ski tours of the Intracoastal Waterway and the South Carolina coastline. Experience all that South Carolina coast has to offer on a half-hour, hour or two-hour guided tour. You must be 18 years or older with valid driver's license to rent and or carry passengers. You must be 16 years or older with valid ID to ride alone, accompanied by an adult. All jet skis can seat 3 passengers, with a 375 lb limit.
(4474 Water Front Ave, Little River; 843-655-0813)
www.littleriverwatersports.com

Myrtle Beach Water Sports
Myrtle Beach Water Sports offers a great South Carolina vacation adventure. Set out from your rental condo resort or rental house to have a great experience. Enjoy a great day exploring the area waterways on Jet Skis. You can rent Jet Skis by the half hour or hour to tour the Intracoastal Waterway. You can also book Jet Ski time by the hour to ride on the ocean, or book a Jet Ski Waterway Tour. This tour takes you to areas you cannot go on your own, and takes you past Bird Island on the way back. There are even Jet Ski Dolphin Watch Tours, with dolphin sightings guaranteed. For something different, take a Backwater Adventure Tour to the Waccamaw River. Wind your way through the live oaks that are swathed in Spanish moss. There are also traditional dolphin cruises offered by Myrtle Beach Water Sports, and a pirate cruise!
(4495 Mineola Avenue, Little River; 843-280-7777)
www.myrtlebeachwatersports.com

Werner Ocean Adventures
Werner Ocean Adventures is a family-affordable Myrtle Beach fishing charter company. Take a shrimp trawling trip and experience the life of a shrimper, on a small scale. Pull in the nets, and harvest your catch, which you get to take home with you! You can also go on a crabbing trip, and haul in the crab traps to catch both blue and stone crab. Worried about motion sickness? The folks at Werner Ocean Adventures, upon request, can keep you in calm waters to minimize your motion sickness. You can fish for Reds and Flounder, or go a little further afield for Cobia, Shark, and Barracuda. Book the 35-foot Pro-Line and take a Gulf Stream trip for Wahoo, Mahi, Tuna, Kings, and Grouper.
(Morgan Avenue Little River, SC 843-254-7235)
www.myrtlebeach-fishing.com
---
Cherry Grove
Captain Cush's Fishing Charters
The only thing better than hitting the beach near your great rental condo resort or house, is venturing out on the water for a day of fishing. Captain Cush's Fishing Charters can make that happen for you. According to Captain Cush, "if it swims, it's a target" and he is ready to take you out target hunting. Charter either the Bite Me or the Bite Me Harder for a great day of fishing, with a captain committed to giving you a great experience.
(Based at Harbourgate Marina at 2120 Sea Mountain Highway North Myrtle Beach, 843-997-5850)

Cherry Grove Fishing Pier
The historic Cherry Grove Pier was built shortly after 1950. It has battled its way through more than one hurricane, coming back better and stronger, each time. After Hurricane Hugo decimated much of the area and destroyed the pier, the Cherry Grove Fishing Pier was rebuilt, and a two-story observation deck was added. Hurricane Floyd snapped off the observation deck and flung it 1,000 feet down the beach! The observation deck was rebuilt, and is a hugely popular sightseeing destination. Today the 985-foot pier has been updated; besides the two-story observation deck, it boasts a tackle shop and a restaurant. The Cherry Grove Pier is the home of a record 1,780-pound Tiger Shark catch and a record 98-pound Tarpon catch. The newly-remodeled Tackle Shop, which is located on the pier, has great equipment options to meet your fishing needs. When you pay admission to the Cherry Grove Fishing Pier, a fishing license is not required. Feel free to ask the fishing pros in the tackle shop which fish are biting, and the best bait and equipment to catch them.
(3500 North Ocean Boulevard, North Myrtle Beach; 843-249-1625)
www.cherrygrovepier.com

Sea Thunder
Touted as the best dolphin tour in Myrtle Beach, the Sea Thunder is 65-foot tour boat that can hold approximately 141 passengers. There is room for everyone to sit, and when the Captain okays it, you can walk around. There are several rows of seating that are shaded by a canopy, but come early to get a shady spot. There is a good chance you will get wet on this tour, so dress appropriately. There is a dry box on the boat for your valuables. Sunglasses and sunscreen are highly recommended for the tour. You are guaranteed dolphin sightings when you book a tour on Sea Thunder! Enjoy all three phases of this trip. The first part is the narrated cruise up the Intracoastal Waterway, and spying some uninhabited islands and the jetty as you head out onto the Atlantic. The second is continuing out onto the ocean to spot dolphins. The third and final part is enjoying some views of the gorgeous North Myrtle Beach, South Carolina area coast.
(Harbourgate Marina, Cherry Grove; 843-280-8400)
www.myrtlebeachdolphincruises.com
---
North Myrtle Beach
Shallow Minded Inshore Fishing
Have a personalized South Carolina fishing experience when you join Captain Jesse Vereen on a fishing charter. Gain a new perspective and appreciation of the area while you fish the coastal backwater creeks for Redfish, Speckled Trout, Black Drum, and Spanish mackerel. The captain only takes up to four anglers per trip, to offer that personalized experience. Full- or half-day trips are available. Year-round fishing available.
(One Harbour Place, Harbourgate Marina, North Myrtle Beach; 843-446-1927)
www.fishmyrtlebeach.com

Coastal SCUBA
Have you dreamed of exploring the beautiful underwater world? Coastal SCUBA has all you need to make this dream come true. Coastal SCUBA is a PADI IDC dive training and retail center. They offer classes both in their 10,000-gallon pool on site, and in a number of oceanic locations. You can dive The Sherman, a 140-year old blockade runner from the Civil War era. You can explore a live-bottom reef, Angel's Ledge, renowned for its beautiful queen angel fish. Explore artificial reefs like Barracuda alley, for a great training experience. There is a variety of marine life to be seen, and an abundance of Spadefish and Barracuda. There are many different wrecks on the ocean bottom available for excursions, some are recommended only for experienced divers.
(1501 Highway 17 South, North Myrtle Beach; 800-249-9388)
www.coastalscuba.com

Great Escapes Kayak Expeditions
Paddle your way to a great vacation day with Great Escapes Kayak Expeditions. Rent a kayak for a partial- or full-day, and explore the North Myrtle Beach area. There are guided kayak tours available, as well. Take a half-day tour to Waites Island, and spend time on the beach which is only accessible by boat. Enjoy the perfectly-timed shelling, swimming, and sunbathing. You will kayak through the marsh channels to get there, and may even catch a glimpse of Loggerhead Sea Turtles or Bottlenose Dolphins. Great Escapes also offers paddleboard rentals. Enjoy a serene expedition through the saltwater marsh, and enjoy the abundant wildlife in the area.
(For details and pricing call; 843-241-4588)
www.GreatEscapesKayak.com

Thomas Outdoor Watersports
Have a Jet Ski adventure on the Grand Strand with Thomas Outdoors Watersports. Combine the excitement of Jet Skiing with dolphin-spotting on a unique tour. Thomas Outdoor Watersports has over 30 years experience in the industry. They are committed to your safety and comfort. Their equipment is perfect for tearing through the waves with the sea breeze streaking through your hair. If you are looking for something a little quieter, you can book a pontoon boat for a day at Bird Island, or cruise around for a leisurely vacation day.
(Anchor Marina, 2200 Little River Neck Rd., North Myrtle Beach; 843-280-2448)
---
Myrtle Beach
Downwind Sails
Why hole up in your rental condo resort, or in your rental house during your beach vacation? Get over to Downwind Sails in Myrtle Beach, South Carolina for the adventure of a lifetime. They have many great offerings. You can experience the ultimate adrenaline rush by booking a parasailing expedition. Soar 300 feet above the ocean! You can also take sailing lessons, rent a sailboat by the hour, day, or week, or book a sailboat ride. You can rent kayaks and paddle boards at Downwind Sails. They have a surf school where you can learn to ride the waves. Rent a jet ski, or take a thrilling trip on a banana boat. They have sea life excursions which are taken on Jet Skis that can fit up to three people. Sea turtles, dolphins, stingrays, jellyfish, sharks and puffer fish are among the species sighted!
(2915 South Ocean Boulevard, Myrtle Beach; 843-448-SAIL)
www.downwindsailsmyrtlebeach.com

Myrtle Beach State Park
The fishing pier at Myrtle Beach State Park is a magnet for both locals and visitors. Commonly caught fish are king mackerel, bluefish, flounder, Spanish mackerel, drum, spot, and sea trout. You may do some surf fishing from the beach at the park when it is not crowded with swimmers and sunbathers, and when there is no lifeguard present. Enjoy the mile-plus long expanse of beach for fishing and swimming during your visit. Open daily.
(4401 South Kings Highway, Myrtle Beach; 843-238-5325)
http://www.myrtlebeachstatepark.net
---
Garden City
Marlin Quay Marina Watersports
Marlin Quay Marina is home to both Myrtle Beach Charter Fishing and Myrtle Beach Watersports. You will find a dizzying array of charter options for fishing. You can book a half- or full-day, inshore fishing, offshore fishing, all-day fishing, Gulf Stream fishing, and Shark fishing charters.
In terms of water sports, there are two exciting options. Banana boat rides are available every hour on the hour, and last 40 minutes. Parasailing adventures await those who are stout of heart. If you weigh between 45 pounds and 400 pounds, and can fit into a life jacket and parachute harness, you are good to go on a cloud-skimming ride above the ocean.
www.marlinquay.com
---
Murrells Inlet
Catch-1 Sport Fishing Charters
Sail with Captain Shannon on a fishing charter for the whole family. Catch-1 Sport Fishing Charters have been providing inshore and nearshore fishing charters for over 35 years. They will help you hook what is biting during the season. That could vary from Flounder in spring, to Spanish and King Mackerel in late summer, to Trout when it is cooler.
(Located at Drunken' Jacks Restaurant, Hwy 17 Business in Murrells Inlet, 843-450-1430)
www.catch1sportfishing.com

Capt. Dick's Marina
There is nearly an overwhelming amount you can do at this marina. Charter all types of fishing trips at the Crazy Sister Marina. Book a saltwater marsh eco tour. Rent Jet Skis, kayaks, and boats. Cruise on a pirate ship. Go on a dolphin watch. Go on a paddleboard tour, or on either a banana boat or dragon boat ride. Coming soon, experience the thrill of parasailing!
(Business Highway 17, Murrells Inlet; 866-557-FISH)
https://crazysistermarina.com
---
Calabash
Calabash Fishing Fleet
Year-round fishing can be part of your beach vacation plans, with a little help from the Calabash Fishing Fleet! This fleet, located in the North Myrtle Beach, South Carolina sister-city of Calabash, offers the largest fishing/party boat in the area! Their Atlantic Star can accommodate up to 130 passengers! Whether you are looking for a large-group or individual booking, Calabash can meet your needs. Offerings include half day, full day, Gulf Stream, and sunset trips. Book a trip on the Navigator, an open party boat that hosts deep-sea fishing as well as dolphin adventure cruises.
(9945 Nance St, Calabash; 910-575-0017 or 866-575-0017)
www.calabashfishingfleet.com

Hurricane Fleet Fishing Center
The Hurricane Fleet Fishing Center offers fishing charters in both South Carolina and North Carolina. Hurricane Fleet offers all types of excursions. There is a shark fishing trip to North Carolina, as well as a 12- to 16-hour tuna fishing trip. Take a two-hour dolphin cruise to spot dolphins, but also to get a glimpse into the local shrimping industry. Pull along-side a working shrimp boat and watch as the live catch is brought on deck. You may spot some interlopers on the deck, like crabs, sand dollars, star fish, and sea urchins, in addition to the harvested shrimp. The Hurricane Fleet provides your fishing bait, tackle and license. Pack your own lunch, or try out the snack bar menu.
(9975 Nance Street, Calabash; 800-373-2004)
www.hurricanefleet.com

Sea Screamer
Enjoy an exhilarating (and wet) vacation experience on the Sea Screamer! Bag up your camera to capture the sights, and there will be plenty of them. Start with a narrated cruise as you head up the Intracoastal Waterway. Pass some uninhabited islands on your way out onto the ocean to watch the dolphins at play. Get a great view of the beautiful North Myrtle Beach, South Carolina are coastline. There is a canopied area, but arrive early if you want to be seated there. Reservations are required. Open Monday through Saturday in the summer with several daily departures.
(Waterfront, Little River; 843-280-8400)

Voyager Fishing Charters
Fish year-round with Captain Larry, who has 40 years of experience. There are all types of trips available from Voyager Fishing Charters. Voyager Fishing Charters professes to have the finest and most luxurious fishing fleet. There are half day and full day trips, night fishing, and Gulf Stream trips. On a 12-hour Gulf Stream bottom fishing trip you many catch Red Beeliner Snappers, Grunts, Triggerfish, Grouper, Amberjack, Cobia, Porgies, and King Mackerel.
(Next to the Dockside Restaurant at the Calabash waterfront, 843-626-4900)
www.voyagerfishingcharters.com