Myrtle Beach Entertainment

When the sun goes down in Myrtle Beach, the curtains go up.
Plenty of theatres and entertainment venues are spread throughout the Grand Strand to keep your vacation nightlife as full as you would like and many shows offer several daily show times in the summertime to keep up with demand. Offering visitors concerts, comedy and live theatre, the Myrtle Beach area is at the top of the list when it comes to providing top notch nightly entertainment.
The choice is up to you! Country music concerts, Broadway performances, comedic antics, tributes to legendary superstars, and mystery dinner theatre options are all available in the Myrtle Beach area to keep your vacation days topped off nicely. You will be pleased as pie with the live entertainment Myrtle Beach has to offer.
Live entertainment adds a facet to your days in the Grand Strand that enhances your vacation to a higher degree. Top notch, live entertainment is an experience unlike any other and Myrtle Beach serves it up on a silver platter. From singing and dancing to theatre and comedy, the award-winning venues of Myrtle Beach can be found located all up and down the strip in the Grand Strand. Finding a show time that meets your vacation needs should not be a difficult task and the venues in the Myrtle Beach area know that your vacation convenience is key and ample show times are available to accommodate your needs. A ticket in hand ensures your seat to a delightful evening of high quality entertainment and you are likely to find any one of these establishments to be mere minutes away from your oceanfront vacation rental.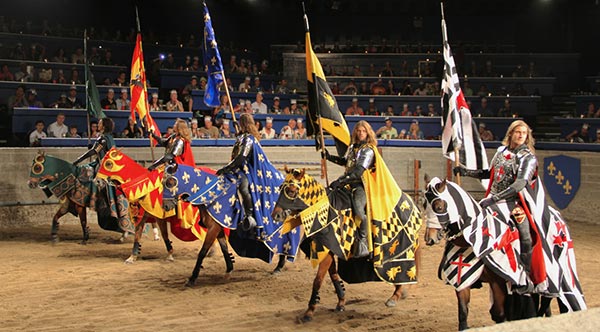 Dinner and Thrilling Entertainment at Medieval Times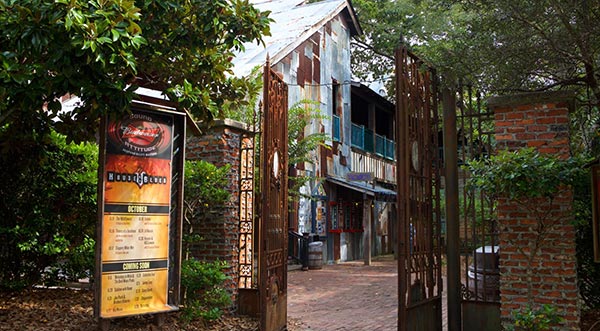 The House of Blues - Nightlife and Music
---
North Myrtle Beach:
Alabama Theatre
The plush 2,000-seat Alabama Theatre is home to One, the critically-acclaimed variety show, featuring talented singers and high-energy dancers to delight your senses. Including country music, rock 'n' roll, gospel favorites, Broadway hits, and some of the best concerts and live acts in town, the Alabama Theatre offers up play bills that impress.
More legendary entertainment groups than can even be listed have graced the stage of the Alabama Theatre, but these famous ones are certain to ring a familiar bell; Billy Ray Cyrus, Bill Cosby, Charlie Pride, Lorrie Morgan, Ricky Van Shelton, George Jones, the Oak Ridge Boys, and of course, Alabama. The current Celebrity Concert Series calendar is full of the most celebrated performers including side-splitting comedians and country music stars your whole family will be excited to see.
Alabama, the highly acclaimed musical trio, called Myrtle Beach home in the 1970s, and in 1991 the country music legends returned to the Grand Strand to add a rhinestone in the already sparkling list of high-end, live entertainment options. They partnered with Gaylord Entertainment, then owner of the Grand Ol' Opry, TNN, Country Music Television and more, and directed and produced an elaborate production to be presented nightly by a talented cast of performers in a new, state-of-the-art theatre, The Alabama Theatre.
Call for reservations, concert updates and ticket information. 4750 Highway 17 South, Barefoot Landing, North Myrtle Beach; 800-342-2262
www.alabama-theatre.com
House of Blues
With more than 25 years entertaining visitors to the Myrtle Beach area, the House of Blues offers a line up that will potentially knock your socks off. With past performers from the worlds of blues, jazz and gospel, the House of Blues has had such talent take the stage as Chris Isaac, Hootie and the Blowfish, Keith Urban, Ashlee Simpson, Edwin McCain, Norah Jones and Dierks Bentley, just to name a few. The BB Blues bar and the Sugar Shack Deck host live entertainment most nights for your vacation enjoyment. The food is nearly as fantastic as the entertainment as the House of Blues serves up seafood gumbo, voodoo shrimp or a specialty of the house, The Elwood sandwich.
Away on vacation and away from your church on a Sunday? No worries! The House of Blues has got you covered with its Sunday Gospel Brunch. This brunch features good old fashioned gospel music coupled with a southern breakfast buffet that is sure to please. Never had grits or jambalaya? Well, you are in for a treat when you hit up the House of Blues for the Sunday Gospel Brunch!
If an evening of mysterious suspense thrills your senses then you will want to visit the Murder Mystery Dinner Theatre at the House of Blues. Ever shared a dinner table with someone who was just murdered? Get involved to solve the crime, gather clues and figure out whodunnit when you attend the Murder Mystery Dinner. A talented, comedic crew takes you through the mystery and hopefully you will solve the case and win a prize. An evening of intriguing mystery will enhance your Myrtle Beach vacation nicely. www.murdermysteryproductions.com
Call ahead for calendar of events and ticket information. 4640 Highway 17 South, Barefoot Landing, North Myrtle Beach; 843-272-3000
https://www.houseofblues.com/myrtlebeach
---
Myrtle Beach:
The Carolina Opry
Myrtle Beach has a star-studded crown when it comes to entertainment venues but one of the most awarded theatres in the Grand Strand is The Carolina Opry. With a jam-packed schedule of the highest entertainment names around and the newest, upcoming talent, The Carolina Opry offers a variety of options to please visitors to the area. Providing top talent night after night, year after year for more than 21 years has made The Carolina Opry a cut above the rest. Featuring upcoming talent as All That, the urban cloggers group that has been featured on America's Got Talent as well as talented, conservative groups as the Gaither Vocal Band, The Carolina Opry offers variety for visitors from all walks of life. Hundreds of thousands of visitors pass through its doors each year, confirming that it is one of the area's most popular attractions. From the moment visitors enter the building and are greeted by the two-story marble lobby to the very last moment of a fantastic show that yields a standing ovation, guests will be delighted by their visit to The Carolina Opry. A visit to The Carolina Opry creates memories that will last a lifetime. Be sure to book early to get the best seats!
8901-A Highway 17 North, at Mile Marker 204, Myrtle Beach; 800-843-6779, 843-913-4000, or purchase tickets online.
www.thecarolinaopry.com
Good Vibrations!
If you are an appreciator of the music, comedy and dancing that was born in the 1960s-1990s then a seat at the Carolina Opry to experience Good Vibrations will be right up your alley. Top notch talent brings you the likes of The Beach Boys, Janis Joplin, Pat Benatar, Billy Joel, Elvis, John Denver, Don McLean, Cyndi Lauper and so many others for a night that will snap you back to decades gone by to create some nostalgia for a few hours. Yesteryear comes alive on the stage of The Carolina Opry when, in addition to the award-winning dancers and singers, large display screens feature the highlights of the brightest, funniest and most insightful moments of these decades gone by. You will be taken through an emotional ringer as you laugh with side-splitting vigor, belt out your favorite tunes or tap your toes to the tempting tempos. What a night to remember when you see Good Vibrations at The Carolina Opry! Be sure to make it a part of your Myrtle Beach vacation.
8901 Highway 17 North, at Mile Marker 204, Myrtle Beach; 800-843-6779, 843-913-4000
Legends In Concert
With more than 20 years of entertaining visitors to the Grand Strand, Legends in Concert has been enjoyed by millions. Featuring world-class tributes that capture the look, sound and overall character of the stars they portray, Legends talent hits the nail on the head when it comes to mimicking the originals. Backed by the most energetic choreography and cutting-edge lighting and audio, Legends has won the prestigious Show of Shows award from the International Press Association.
With an ever-changing line up with a new set of tribute stars scheduled for each season of the year, Legends In Concert could be on your list of entertainment options year after year when you pay visit to the Myrtle Beach area. Visit legendsinconcert.com/myrtle-beach for the latest line up.
Christmas time brings special events to many of the Myrtle Beach entertainment venues and Legends In Concert is no different. Begin a new tradition around the holidays and secure your seat to experience all the fullness that a Christmas line up brings to Myrtle Beach. Traditional Christmas carols and toe-tapping holiday tunes coupled with gifted performers bring the true spirit of the holiday season to light for attendees of all ages.
Legends In Concert is located at the corner of 29th Avenue N and Bypass 17 at Broadway at the Beach, the premier shopping and entertainment destination in Myrtle Beach.
2925 Hollywood Drive, Myrtle Beach; 800-960-SHOW
www.legendsinconcert.com
The Carolina Opry Christmas Special
Christmas exuberance is alive during the holidays at more than one venue and The Carolina Opry has cooked up something special to keep the Christmas spirit alive. Even though you may be on vacation in the milder climate of Myrtle Beach, it is no need to go without your Christmas spirit. The music variety show at The Carolina Opry has been a family tradition for more than 20 years and provides warm and sentimental holiday hoopla for all who attend.
8901 Highway 17 North, at Mile Market 204, Myrtle Beach; 800-843-6779, 843-913-4000, or purchase tickets online.
www.thecarolinaopry.com
Pirates Voyage (A Dolly Parton Company)
Don your best pirate hat and ensure you possess your sword when you show up for the swashbuckling pirate adventure that is certain to take your breath away. The Crimson and Sapphire pirates battle each other out on the full-sized pirate ship deck to see who walks away with the lost treasure. With a talented cast who sing, dance and swab the deck, Pirate's Voyage is a must see when you are vacationing in Myrtle Beach. A 15-foot deep indoor hideaway lagoon enhances the authenticity of this battle and only one team will be cheered on by spectators to certain victory. Live animals, a top notch music score by Dolly herself and spectacular acrobatic feats combine for an unforgettable experience in the Grand Strand. Pirate's Voyage is named the most fun place to eat in Myrtle Beach and you will not want to miss it. Be sure to book your reservation today. All seating is reserved seating so advance reservations are recommended.
8901 North Kings Highway (at the north junction of Highway 17 and Highway 17 Bypass) Myrtle Beach; 800-497-9700
www.piratesvoyage.com
Medieval Times Dinner and Tournament
Medieval Times Dinner and Tournament is one of the most fun destinations for your next knight out! You'll be welcomed into the Queen's 11th Century Castle where you can enjoy our Hall of Arms, complete with medieval décor, authentic weaponry and armor, bars, gift shops, and our Museum of Torture. Once inside the arena, you'll witness live jousting, sword fighting, and incredible equestrian skills during the two-hour show. Lances splinter against shields of steel, swords spark in combat, and a champion emerges to the sound of a cheering crowd. During the tournament, it will be our pleasure to serve you a four-course feast fit for royalty including dessert, two rounds of select beverages, and coffee. Fun for old and young alike, Medieval Times is a fantastic family adventure while visiting Myrtle Beach.
You're treated like royalty when you step back in time to the Middle Ages. Several evening performances are held weekly from March to December. Call for show schedule and ticket information.
Fantasy Harbour, Highway 501 behind the Waccamaw Factory Shoppes, Myrtle Beach; 800-436-4386
www.medievaltimes.com